The Augmented Removal Men
A short story where transhumanism meets capitalism. The human body is not efficient enough to deal with the ever increasing productivity demands. Corporations are looking for ways to improve it in a race against the machines.
Fiction
Work, Technology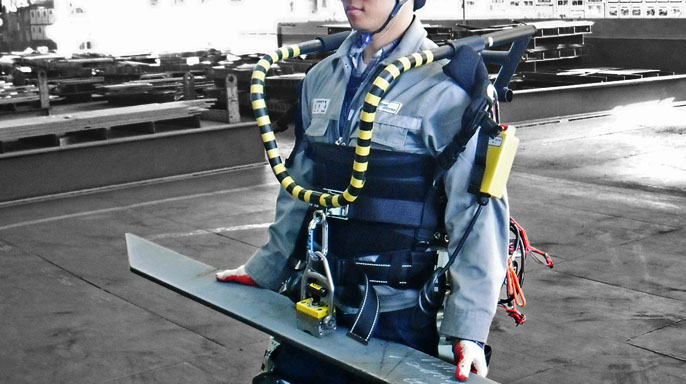 The doorbell rang and the old man opened. A woman and a man were standing at the door. They were both wearing blue outfits and caps with the logo "FastMove" on them. The woman was wearing weird glasses and had an earphone. The man seemed to be quite strong and was wearing black gloves.
– "Hello Sir. I am Jane and this is Bill, from FastMove, the moving company." – "Good morning. Perfect timing. Suit yourself."
– "Bill, bring the boxes. The first box will fit in the closet, first door on the left. The second has to be put in the bedroom, second door on the right. Mind the gap," the woman said to her colleague.
– "Hey, wait a minute. How do you know all that?", the old man asked.
– "Your daughter sent us your house plan when she signed the contract. I downloaded it into my brain chip so I can plan your removal in the most efficient way, Sir."
Bill went to the van and opened the trunk. He grabbed two huge boxes and went inside to store them as ordered. The old man looked doubtful and surprised.
– "These are at least forty kilograms each…What is going on?!"
– "Bill can carry up to one hundred kilograms without any effort. He received augmentations, Sir."
– "What the hell is that?"
The woman looked at him confused. "Bill replaced his real arms, legs and backbone with robotic versions of them. Our employer funded this operation so he could move your stuff more efficiently and rapidly, Sir."
– "I didn't ask for that much…"
The removal man went to the van again and grabbed a table without any sign of effort. The old man looked at him with pity and Bill glanced back at him with pride.
– "Bill, drop the table in the middle of the kitchen, first door on the right. You'll need a forty-five degree angle to get through the doors."
Bill performed the task as ordered and got back in the van, passenger seat. The whole removal took less than five minutes.
– "Record. Sir, do you hereby agree that the delivery has been properly carried out?" the woman asked.
– "Yes", the old man replied.
– "End of record. Excuse me Sir, you must answer I hereby agree or it won't be legally valid."
– "Sorry, start over."
– "Record. Sir, do you hereby agree that the delivery has been properly carried out?"
– "I hereby agree that the delivery has been properly carried out."
– "End of record. Thank you Sir. Have a good day."
The woman got back in the van as well and started the engine. The old man watched them leave. He was still trying to figure out what just happened.
---
Ryan left the warehouse to take his break. He went to the locker room and started taking his powered exoskeleton off. He first untied the knee and foot straps to remove the titanium structure surrounding and reinforcing his legs. He then unstrapped the upper part covering his waist, chest, arms and spine. He finally stored the whole equipment in his locker, removed his backpack power supply and plugged it in to recharge the batteries. Ryan was in the flesh again. He felt naked and weak without his metallic shell, but he was ready to have a coffee. He entered the break room and instantly noticed the two augmented employees sitting at a table in the back. The man was a carrier, an employee who received arms, legs and backbone augmentations in order to carry heavier weights than a normal human-being. The woman was a planner who received mental augmentations in order to handle the logistics, driving and accounting. They were both valuable employees, among the most expensive but also the most profitable of the organisation. Ryan gathered his courage and dared approaching them.
– "Hello! May I sit with you?", Ryan asked.
– "Sure, kid. Take a seat," the planner replied.
– "Have you already been augmented?", the carrier asked.
– "Not professionally. I have just been hired so they only gave me an exoskeleton. Model CARRY50K."
– "Not bad. I guess you'll be augmented soon if you prove yourself worth it. Are you looking forward to it?"
– "Oh yes! To be frank, this is why I joined. The competitors do not fund augmentations as much as FastMove does. The recruiter told me that I could receive one after only three years!"
– "Why do you think we are so much ahead of the competitors, kid? They can't keep up because we're way more productive than they are. They were afraid of funding augmentations fifteen years ago and now it's too late. They missed the train. I am Bill by the way."
– "And I am Jane," the planner said.
– "It is an honour to meet you. I am Ryan."
Ryan was impressed by their confidence and augmentations. He had been dreaming about being augmented since he was a boy. He has watched all the films and read all the books around the topic. He even subscribed to Transhuman Magazine but the content was too complex so he just admired the pictures. Unfortunately, all the coins he had been putting in his piggy bank were not enough to buy him anything except a RFID chip. His parents were not as enthusiastic as he was so he had to wait until he turned eighteen to implant one. The first thing he did on his birthday was to give his parents the finger and go to the implant shop to get augmented. He asked for a tiny chip to be put under his skin so he could interact with the objects and devices around him using radio-frequency electromagnetic fields. This was a modest augmentation but he was proud of it.
– "Your augmentations seem amazing! Can I have a look?" Ryan asked.
Bill started the show by rolling up his sleeves and raising his arms. He moved his fingers one by one. Ryan was fascinated by the smooth and precise motions of the robotic arm.
– "These are military-grade, pure carbon-fiber-reinforced polymer. I can carry up to one hundred kilograms without even feeling the weight," Bill said. "I am now able to perform three times more deliveries than prior to my augmentation," Bill continued.
– "Impressive! And how was the operation?" Ryan asked.
– "Not bad. The surgeon anaesthetised me to remove my arms, legs and backbone. He then implanted the robotic replacements and connected them to my nervous system. The operation was quick but it took me a while to adapt to this new way of moving and working."
Jane then took the floor to continue the show.
– "Unfortunately, I won't be able to show you anything spectacular," she said. "My augmentations are under my skull, connected to my brain."
– "What exactly are they?" Ryan asked.
– "They are brain implants, also called neurochips," Jane explained. "They enhance my mental capabilities for the job. Clients' contracts details, house plans and GPS coordinates are downloaded into my brain, and I see them as if they were in my memory. I can also compute instantly the most efficient arrangement while packing the van."
– "And don't you ever miss your old parts?", Ryan asked.
– "What for? The flesh is weak. I am a better human being now. Stronger, faster, more efficient." Bill paused. "I feel powerful, for once. You'll know what I mean when you get augmented, kid," he added.
Ryan already knew what Bill meant. They were on the same wavelength.
– "And do you think it is possible to get both your augmentations guys?", Ryan asked.
Jane and Bill looked at each other. Bill answered first.
– "Well… There is someone at FastMove. Andrew. He is both a carrier and a planner. In fact, he is much more than that."
– "He received every single augmentation that you could think of," Jane added. "Brain, eyes, arms, legs, backbone, torso."
– "Andrew is part of the business-to-business branch. This is where FastMove makes most of its profit, you know. Not in home removals like we do. Andrew is assigned only to the most expensive and sensitive contracts. Like relocating research labs containing dangerous or confidential devices for example."
– "I hope I will see him one day…" Ryan said.
– "You will, kid. He will be here tonight," Bill said.
That evening was the much awaited annual conference of FastMove and all the employees were invited to the event. The CEO already promised the shareholders that an astounding announcement will be revealed and streamed worldwide. An announcement that will crush competitors and leave them behind forever. Ryan was very excited about this event.
– "Any idea about what the announcement will be?" Ryan asked.
– "Not really," Jane said. "I guess it will have to do with augmentations. Maybe a new employee augmentation programme."
Ryan was looking forward to the day FastMove will fund new augmentations for him so he could become more than the mere human being he was. They drank the rest of their coffees in silence.
---
Andrew was getting ready for the conference. He was likely to be the centre of attention so he had to get all dressed up. He opened his wardrobe and looked at the pairs of arms and legs. He picked the ones with flesh-like material and equipped them instead of his carbon-fiber augmentations. He then put on his tuxedo and looked at himself in the mirror. He slicked his short black hair using some wax, smiled and admired the result. He was ready for the show.
On his way to the conference, he thought about the announcement to come. The CEO did not disclose anything to him. He went out of his penthouse and decided to run to the theatre. He was not late but he considered running to be a more efficient mode of transportation than walking, especially given his high speed. He soon arrived at the theatre and made his way in. Some FastMove employees were already there, and they were looking at him with envy. They all knew who he was, and Andrew was also a very tall and handsome man, although none of his appearance has been manufactured by Mother Nature. A young employee with a large – probably borrowed – tuxedo approached him with a notepad and a pen.
– "Please Sir, could you sign me an autograph?", asked the employee.
– "Sure boy, what's your name?"
– "Ryan. I love what you do Sir!"
Andrew grabbed the pen, signed the autograph and gave it back. "Keep it up boy!", he added. He then went up front to the VIP seats. The CEO was not there, so he just sat and waited for the ceremony to begin. His augmented eyes were displaying the news and his augmented eardrums were playing some music. A few minutes later, he turned back and saw that the theatre was full of FastMove employees as well as cameras streaming the event worldwide. The ceremony was ready to begin. Suddenly, the lights faded out and spotlights were directed to the scene. The CEO entered with a big round of applause.
– "Ladies and gentlemen, fellow FastMovers, viewers from around the world, welcome to the FastMove annual conference! I am Adrian Jensen, CEO of FastMove, and your host for tonight."
– "Let me start by thanking the people who made this company number one. I am of course talking you guys sitting there tonight!". He then applauded and everyone in the room followed with enthusiasm.
– "FastMove is indeed number one on home removals and business-to-business removals all around the world. We are also number one for warehouse management, thanks to our mutually beneficial partnership with Amazon, which gave us the responsibility of all its warehouses worldwide. As a result, FastMove's sales went up thirty-four percent this year, for a total revenue of forty-five billion dollars!"
The public cheered and applauded. Andrew applauded as well and checked the social media on his eye implant. The conference was buzzing a lot. Andrew was ready to climb on the scene to be congratulated and do a motivational speech as he did every year. The CEO continued his introductory speech.
– "Thank you, thank you. Let me tell you that we are meant for much greater things. Forty-five billions is merely a start! Today I have some big announcement for you. Something that will make FastMove even more efficient than before. Something that will allow you to focus on things that really matter. Oh boy, I can't wait to show it you. Let's see it already!"
The CEO stopped and took a few steps back. The spotlights faded out and a video appeared on the main screen.
– "Imagine a world in which all the hard work is suddenly becoming very easy. A world in which a crate could be moved in a snap of a finger", said voice-over with pictures of warehouses.
– "FastMove already contributed to this dream by funding augmentations that made employees stronger, faster and more efficient." The video was now showing augmented employees, with a large amount of time dedicated to footage of Andrew moving expensive furniture.
– "But now is the time to take the next step. Now is the time to become … human again, and let others do the hard work. FastMove is thus proud to announce its new warehouse robot. Much stronger, much faster, and much more efficient than any human could ever be!"
The video stopped, the spotlights turned on again, and a tall and large humanoid robot entered the scene carrying two heavy crates of more than two hundred kilograms each. The robot was a biped creature shaped to ressemble a human in every way but the face and flesh. The theatre was so silent that one could have heard a pin drop. Andrew was silenced by a mix of shock, envy and humiliation. Standing in front of him was the thing he always wanted to be. It was efficient, perfect. And yet Andrew knew that all the augmentations he could get will never make him so perfect. He was aware that he would probably be the last employee to be let got, but deep inside he knew that he was doomed as well.
---
Ryan looked at the robot blankly as all his childhood dreams were getting crushed up.
– "… now you can focus on tasks that really matter such as inventing, planning or …"
The CEO was going into a tirade about the merits of robot workers over human workers but was soon interrupted.
– "What about our augmentations? Will you continue to fund and repair them?", shouted an employee in the theatre.
– "Are our jobs threatened?", shouted a second one.
The worries and questions went on and on, and soon everyone was up shouting. In the middle of the chaos was Ryan in his borrowed tuxedo and with his dreams of becoming a better self. He did not want to invent, to plan or to sit in an office all day doing a job he thought was bullshit. He wanted to be active and work himself up. Ryan believed technology could help him do the job he wanted while being able to keep up with the ever increasing productivity demands. Technology took it from him instead.
---
Why did I write this short story?
The present short story is about of what could happen if we try to race against the machine, as Brynjolfsson and McAfee wrote. I follow the progress of the transhumanist movement with a lot of interest.
However, I sometimes feel that the idealization of robots and the pursuit of productivity and efficiency is pointing towards human redundancy. In a very tragic way, people are already envying Aimee Mullins because she has the luxury of choosing between several pairs of robotic legs before going out. In my short story, Ryan is the boy who grew up in this transhumanist idolatry. At the moment, he has no augmentation but an exosqueleton designed to carry more weights. This kind of exoskeleton for workers already exists and is tested on shipyard workers. With many augmentations, Ryan might one day become like Andrew. But even Andrew know that in this race for efficiency and against the machines, he could never win.
Among other debates I raised, I also wanted to provide a quick glance into what David Graeber calls "bullshit jobs". If even office workers, teachers, writers or social workers get replaced by robots or artificial intelligence at some point because of this race for productivity and growth, what jobs would be left? Not everybody wants to be an engineer designing robots. We have to find new ways to allow people to do the jobs they want to in a sustainable way, such as a basic income. This is outside the scope of this short story and commentary, but it has been defended by Jacques Ellul, who were much aware of both work and automation, and also Alan Watts.